At McIlvain, We Strive for Satisfied Customers & Quality Lumber
The J. Gibson McIlvain Company has been providing satisfied customers with high quality selections of exotic lumber, domestic hardwoods, and custom millwork designs for over two centuries. We take great pride in carefully inspecting each piece of lumber that passes through our plant at least three times. Our sales representatives travel to locations worldwide, hand selecting the best lumber mills to provide our customers with choice wood for their unique orders.
Extensive Inventory of Domestic and Exotic Hardwoods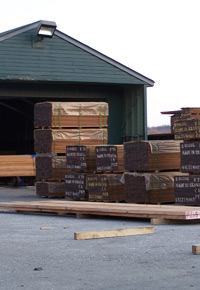 While our vast inventory will be admired by anyone with a need for high quality lumber, there are a few industries that we are especially proud to serve. Our unique selection of teak lumber provides a gorgeous, sustainable option for boat and yacht builders. We also listen carefully to our customers' requests and in the past decade have expanded our inventory to include marine plywood options.
For our contractors looking for the best woods with which to build decks or porches that are resistant to fire, rot, and termites, we carry fine selections of Ipe; however, if you prefer more traditional options, we also have a vast inventory of Mahogany species.
For those who wish to create furniture masterpieces, our inventory of fine woods is hand selected by experts with your project in mind. Whatever your requirements or specifications, we will choose only the finest lumber for your furniture project.
For those crafting custom kitchen floors or cabinets, our expansive inventory will provide you with numerous options to complete the kitchen of your clients' dreams. We understand that your flooring projects require a wood that is as beautiful as it is durable, and our extensive inventory options are created with your size needs in mind. We can also provide the lumber necessary to create a dramatic staircase in a house, public building, or elegant yacht.
Quality Comes First
The J. Gibson McIlvain Company has also taken great pride in serving the architectural millwork industry for many years. Whether you need historical restoration work or a modern, intricate, or exotic design, our employees are always willing to work on challenging projects, even under tight deadlines. We carefully create any custom millwork design to your exact specifications or blueprints.
With each lumber or millwork order, our staff's close attention to even the smallest of details ensures that your order displays impressive craftsmanship. The J. Gibson McIlvain Company is a trusted leader in the lumber industry and takes each and every lumber order seriously.